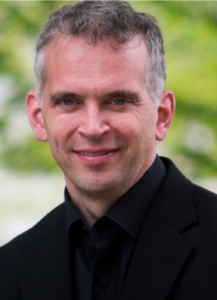 As Director of College Singers, Lux Esto Chamber Choir, and Kalamazoo Bach Festival, Dr. Chris Ludwa is an advocate for all types of singing, be it contemporary a cappella, musical theatre, opera, oratorio, or pop music. Named Artistic Director of Bay View Music Festival in 2007, Ludwa leads a 100-voice festival choir, 16-voice collegiate chamber choir, orchestra, and musical theatre productions that include such epic works as West Side Story, Ragtime, Titanic, and Les Miserables. In addition, he oversees over 30 faculty artists, 150 college musicians, 10 theatre technicians, and over 100 volunteers as the festival produces nearly 50 performances over two months each summer. He also directs Kaleidosong, a professional vocal ensemble he founded in 2014, which specializes in a huge range of styles such as Palestrina, R&B, jazz, American songbook, and spirituals.

Before moving to Kalamazoo, Ludwa served as the Director of Music at The Federated Church Cleveland, where he led 4 ensembles and presented an annual concert series, and maintained a voice studio for exceptional singers enrolled in the prestigious performing arts academies and high schools. At Indiana University, Ludwa conducted ensembles that ranged from the prestigious University Singers to the Grammy-nominated Singing Hoosiers, each to great acclaim. While pursuing his doctorate in Conducting, he guest conducted for both Butler University and Webster University.

In 2012, Ludwa was hired as the Director of Performing Arts and Vocal Jazz Director for Cuyahoga Community College in Cleveland, OH, where he was responsible for programming a subscription series of award-winning artists such as Diana Krall, Bobby McFerrin, Harry Connick, and the New York Voices. Utilizing the world-class recording studios in the Tommy LiPuma Center for the Arts, his ensembles not only performed but recorded, giving students a unique experience working in the recording industry alongside engineers, professors, and music industry pillars. He also developed a series of interdisciplinary experiences that included dance, music, and drama, including a program called Mix, Blackbox Club, and several others. An advocate for youth involvement in music, he has hosted OMEA Solo and Ensemble competition, produced workshops for local high schools, been featured as a guest clinician, prepared choirs for contest, and judged numerous high school choral competitions from concert to show choir. He remains actively engaged in numerous service organizations such as ACDA, OMEA, Americans for the Arts, and the Association of Performing Arts Presenters, where he finishing his tenure as a leadership fellow and on the committee to plan the international conference held in NYC each January. He served as Repertoire and Standards chair for Indiana chapter of ACDA while working at Meridian Street United Methodist Church as their Director of Music.

In Indianapolis, he served for 10 years as Artistic Director of Encore Vocal Arts, a 36-member, professional caliber vocal ensemble. While there, the group made three recordings and completed ten seasons of innovative concert programming, establishing itself with a unique voice in innovative, multi-disciplinary presentations. Ludwa commissioned new orchestrations of numerous works, hoping this would open access to this literature beyond a performance with piano alone. Major projects of the ensemble included several tours; a new setting of Haydn's Creation in Spanish as part of a Latino-Hispanic initiative; a seven-school collaborative performance of Brahms' Ein Deutsches Requiem in German; a tribute to Fred Waring as the father of popular choral music and the predecessor of the show choir movement; and Cole Porter Radio Hour, a biographical revue that received rave reviews and over 7 performances to date. An avid fan of increasing the accessibility of choral music, he has conducted Carmina Burana three times, once with aerial dance and another using fire to enhance the elemental connections in the piece. Ludwa has also dedicated much time to producing music by Indiana composer Malcolm Dalglish, whose Appalachian-based choral music features unique interpretive and stylistic techniques.

In addition to spending much of his time with choral ensembles, Chris is a seasoned orchestral conductor, having held positions with Bloomington Pops Orchestra, Bloomington Symphony, Columbus Indiana Philharmonic, and Terre Haute Symphony Orchestra. As a devotee of the musical theatre, he has worked for Indianapolis Opera as Apprentice Conductor/Outreach Administrator and guest conducted for numerous organizations including Butler University Lyric Theatre, Webster University Opera Theatre, Indiana Repertory Theatre, Edyvean Repertory Theatre, Indianapolis Civic Theatre, College Light Opera Company. Having developed a fondness for old theatres, he was instrumental in the renovation of historic John M. Hall Auditorium in Petoskey, Michigan and spearheaded a massive initiative in Indianapolis to re-open a 700-seat auditorium after having been dormant for 40 years. The hall is in use today by several Indianapolis arts organizations and continues to work toward a full renovation.

After witnessing the power of the arts to motivate and create community, Ludwa is convinced that the wave of the future is to integrate aesthetic process into education, business, government, and daily life. In this role, he has worked for Cuyahoga Community College, Indianapolis Symphony Orchestra, the Leonard Bernstein-inspired Artful Learning School Reform Model at the GRAMMY Foundation, and International School of Indiana. Ludwa has also participated in the Thought Leader Forum at the Banff Centre in Alberta, Canada, a leading institution in the application of aesthetic process in leadership and editing his book on that topic. He has taught arts integration courses, workshops, and lectures at the Bay View Association, Butler University, and Indiana University and is a recipient of the Lilly Endowment-funded Creative Renewal Fellowship Grant, which he used to explore drumming, communication, and values in Ghana, West Africa.

He is married to Melissa, who is a constant source of inspiration, fun, and intellectual conversation. She is a Music Together(R) teacher and enjoys connecting the dots between her counseling background and musical interests. They are parents of two boys, Alexandre and Elliott.