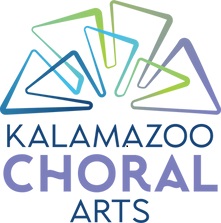 Welcome to Kalamazoo Choral Arts. Previously The Kalamazoo Bach Festival, this new title reflects our new mission statement for the organization, defined by our board of directors: "to create, enrich, and transform community through singing."
This mission embodies three important values that drive our work:
a clearer identity,
openness to an expanded repertoire and diverse audiences, and
a core belief in the power of singing to bring people together.
---
Requirements
An audition is required for this prestigious choral ensemble. Please contact Dr. Christopher Ludwa to schedule an audition.
Rehearsal Schedule
Day/Time:
Tuesdays, 6:30 – 8:30pm
Location:
Dalton Theatre in the Light Fine Arts Building