October 2021
Academy Street Winds Concert – "Trick or Tweet"
Dr. Thomas G. Evans, Conductor
Friday, October 29th – 8pm
Dalton Theater, Light Fine Arts Building
Halloween isn't just for candy anymore! Join us if you dare for a Howl-o-ween scare when the Academy Street Winds gives a fangtastic concert on Friday, October 29th @ 8pm in Dalton Theatre. Costumes are encouraged! You're guaranteed to have a gh'oul time. In fact you'll be so scared you'll boo in your pants! Bugs and Hisses to you!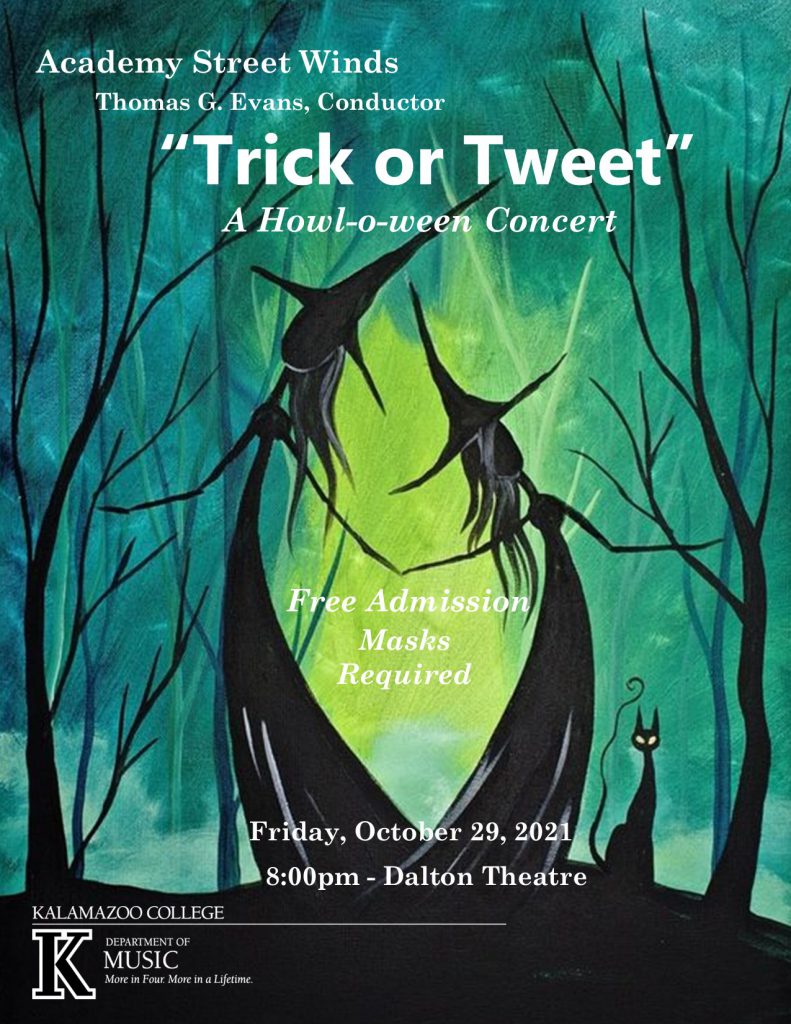 Music for Two Trumpets and Piano – Guest Artists
David Bernard, Keith Geiman – trumpets & Tina Gorter, piano
Saturday, October 30th, 2021 – 7pm
Dalton Theater, Light Fine Arts Building
David Bernard (new Trumpet instructor for K-College), Keith Geiman, and Tina Gorter formed their double trumpet and piano trio in 2019, and have been entertaining audiences with their diverse repertoire of music from living composers. After more than a year off, the trio has come together again and to perform virtuosic trumpet and piano music.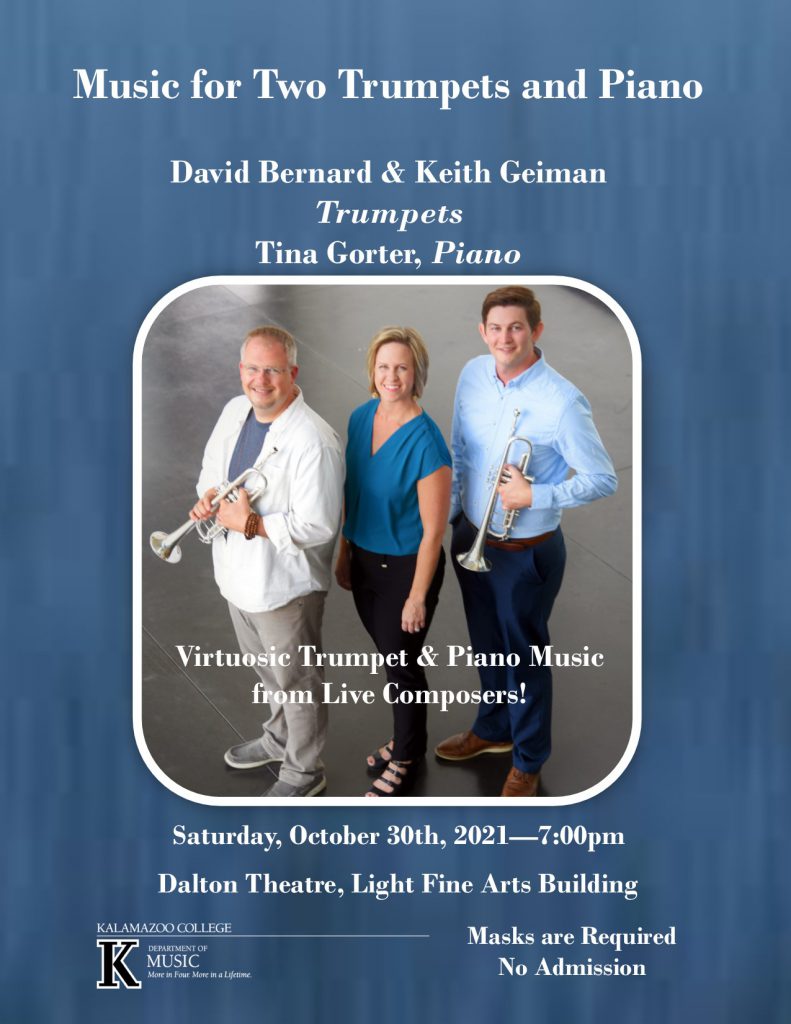 November 2021
College Singers Fall Concert – "OUTspoken Voices"
Dr. Chris Ludwa, Conductor
Thursday, November 11th, 2021 – 4:30pm
Stetson Chapel, Kalamazoo College
Promoting Advocacy and Allyship for LGBTQIA+ Rights through Songs
Featuring songs by Lady Gaga, George Michael, Elton John, Queen and many more…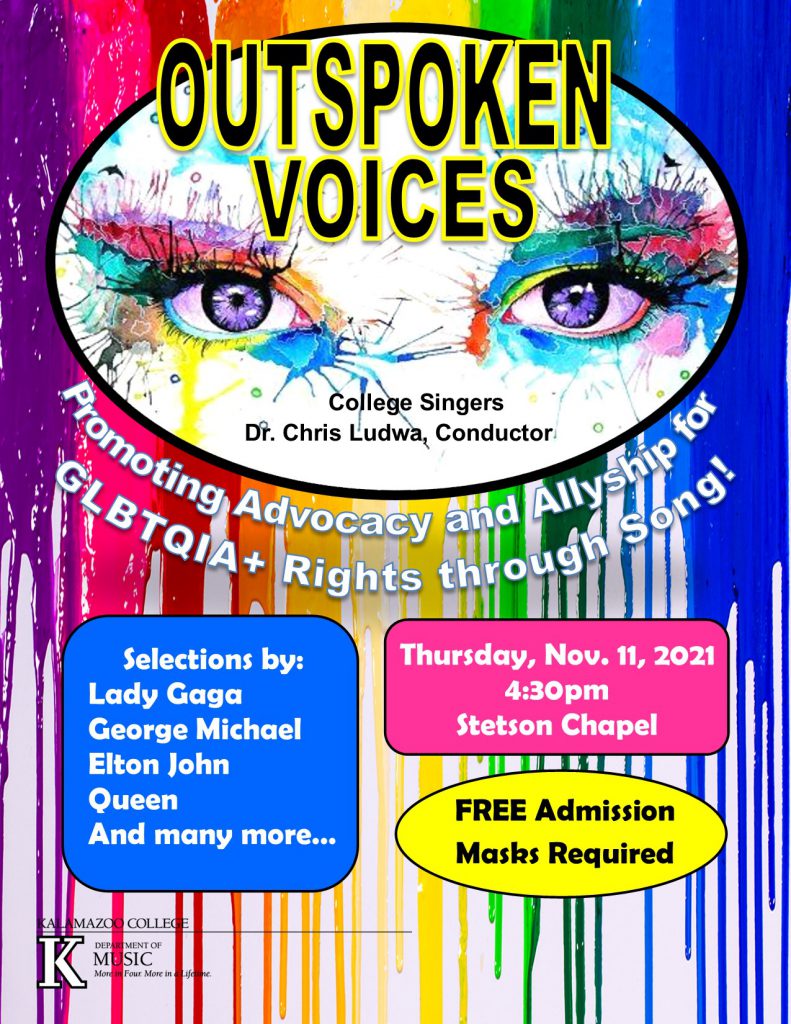 Kalamazoo College Jazz Band – "November Shadows"
Dr. Thomas G. Evans, Director
November 12th, 2021 – 8pm
Dalton Theater, Light Fine Arts Building
Join the ever-entertaining Kalamazoo College Jazz Band on November 12th @ 8pm in Dalton Theater when they present their season opener, November Shadows. The evening will cover several jazz styles including: Swing, Bop, Blues, Hard Bop, Cool, Latin, and Fusion. Don't miss it. —
And don't forget your dancing shoes!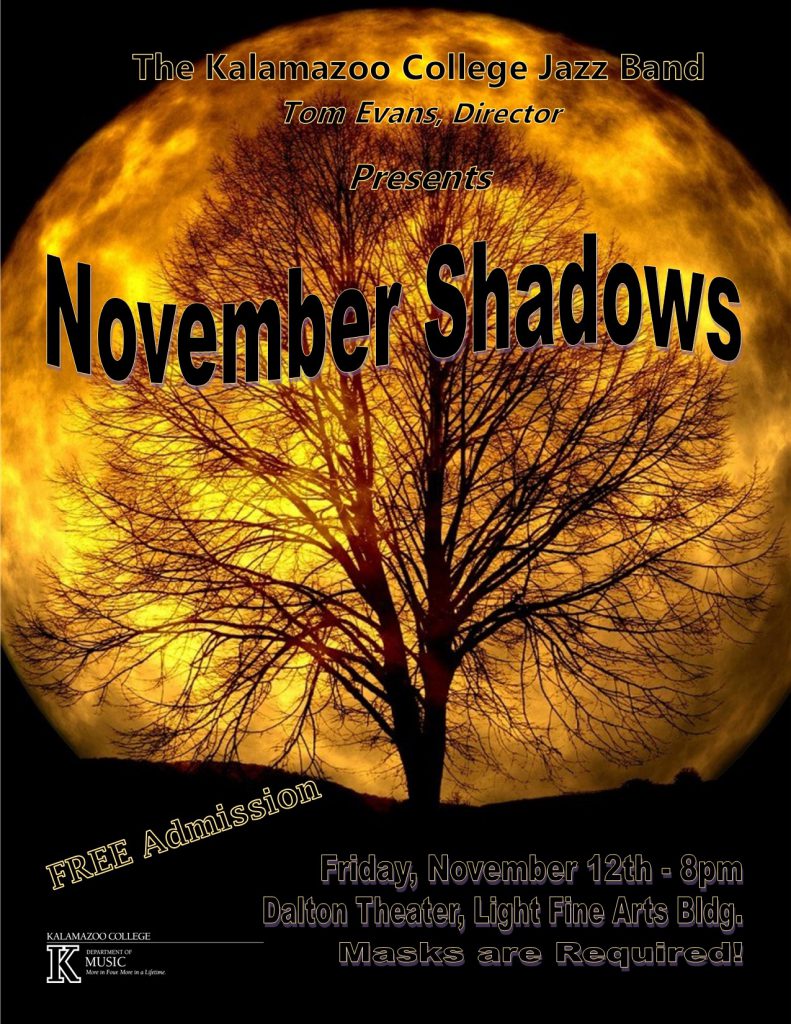 Kalamazoo Philharmonia – Transcendance
Dr. Andrew Koehler, Conductor
Saturday, November 13th, 2021 – 7:30pm
Dalton Theater, Light Fine Arts Building
Tickets are available at the door—$5-Adults / $2-Students / Free for K-College students.
Masks are required for all audience members
Selections to be performed:
Adolphus Hailstork Fanfare on Amazing Grace
Ludwig van Beethoven Heiliger Dankgesang
Ethel Smyth Overture to The Wreckers
Carl Nielsen Symphony No. 3 "Sinfonia Espansiva"
More info visit Kalamazoo Philharmonia's website.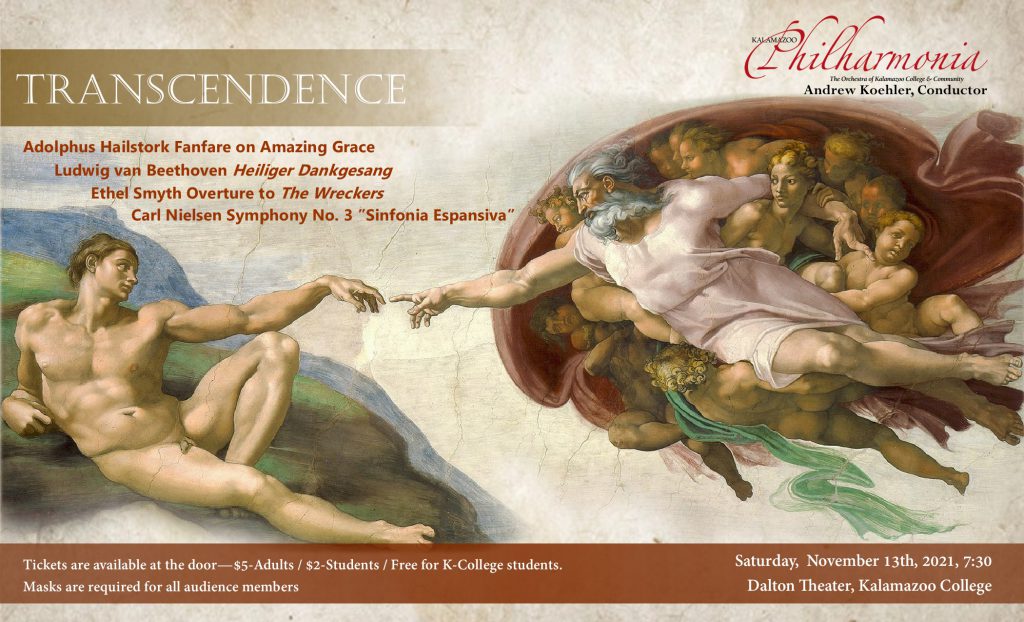 International Percussion Concert – "Collage"
Wednesday, November 17th, 2021 – 7pm
Dalton Theater, Light Fine Arts Building
Featuring: Caribbean Steele Drumming, Japanese Taiko and West African Drumming
Instructors – Carolyn Koebel, Jean Raabe, Nathaniel Waller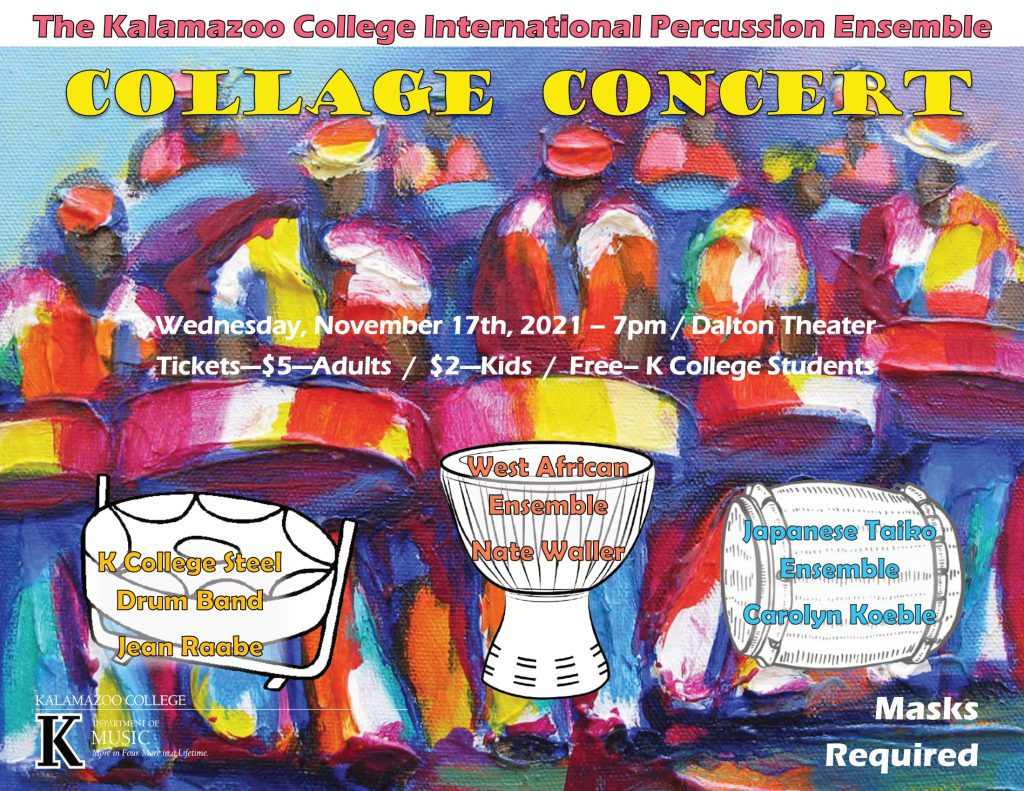 December 2021
Annual Holidays with the Kalamazoo Bach Festival Chorus
Dr. Chris Ludwa, Conductor
Sunday, December 5th, 2021 – 2pm & 4pm
Stetson Chapel, Kalamazoo College
The ultimate seasonal celebration of your favorite holiday music, pieces from around the world, and two world premieres, all in beautiful Stetson Chapel and live-streamed on our YouTube Channel. Local favorites, special community guest artists will join us in celebrating this now over 50-year holiday tradition that will be sure to bring light to the beginning of your holiday season. This concert will run 70 minutes in length without intermission, at 75% capacity, and be performed twice to create a covid-safe concert experience indoors. Our 4 pm concert will be live-streamed.
To purchase tickets and get more information visit Kalamazoo Bach Fest's website.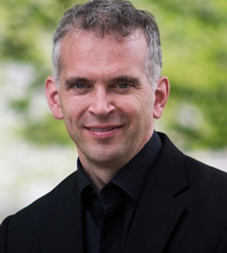 Dr. Chris Ludwa, Conductor