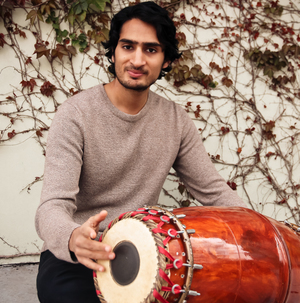 Rohan Krishnamurthy
---
Acclaimed an "international mridangam performer" by USA Today and "pride of India" by India's leading newspaper, The Times of India, Dr. Rohan Krishnamurthy is considered a musical ambassador. Having initially received mridangam training with Damodaran Srinivasan over the telephone in the U.S., he continued advanced training from maestro, Guruvayur Dorai, in India. Rohan has performed hundreds of concerts internationally since the age of nine as a distinguished soloist and collaborator in diverse music and dance ensembles. His prodigious, cross-genre artistry draws from his formal study of Indian classical music, at once propagating the ancient tradition and expanding it in new artistic directions.
Rohan has shared the stage with the leading artists of Indian classical music, including M. Balamuralikrishna, T.N. Krishnan, N. Ramani, R. K. Srikantan, T.N. Seshagopalan, Chitravina N. Ravikiran, S. Shashank, T. M. Krishna, O.S. Thyagarajan, and Ranjani and Gayatri. Having intensely studied many styles of music, he has also spearheaded new cross-musical collaborations with eminent symphony orchestras, jazz ensembles, and musicians including Grammy Award-winners Glen Velez and Vishwa Mohan Bhatt, Anoushka Shankar, Jamey Haddad, and Ayano Ninomiya. He recently premiered Rohan, a novel concerto for South Indian percussion and Western percussion ensemble written specially for him by distinguished composer and percussionist, Dr. Payton Macdonald. The concerto was premiered on both coasts at The Juilliard School in New York City and San Francisco Conservatory of Music in San Francisco.
A highly-acclaimed educator, Rohan has presented Indian percussion institutes and summer camps, clinics, workshops, and master classes, and academic courses at world-renowned institutions, including the Eastman School of Music, Harvard University, MIT, Berklee College of Music, Duke, University of North Carolina-Chapel Hill, Sam Houston State University, Western Michigan University, University of Madras (India), A.R. Rehman's K.M. Conservatory of Music (India), Society for Ethnomusicology, Percussive Arts Society International Convention, Interlochen Arts Academy, and National Institute of Design (India). He directs the award-winning RohanRhythm Percussion Studio, both in-person and online, which has attracted dozens of students of all ages from around the globe. Rohan is the recipient of several prestigious awards, including USA Today's "All-College Academic Second Team," "Young Artist of India" by Bharat Kalachar (India), Thomas Siwe Scholarship from the Percussive Arts Society, and "Prodigy in Performing Arts" by the Indo-American Center in New York City. He was named an IndianRaga Fellow in 2013.
An innovator, Rohan designed a new drumhead tuning system that won him first place in Eastman's New Venture Challenge entrepreneurship competition. His work resulted in a publication in the premier music journal, Percussive Notes. Rohan conducted acoustical research on his new design and has been regularly invited to present his work at the Acoustical Society of America's international conferences, where he twice received the "Best Student Paper" award. Rohan also received a patent for his invention.
Committed to community service and outreach, Rohan has conducted and organized concerts and workshops since 1998 at prominent centers, including Chinmaya Mission, The Banyan (India), Sankara Nethralaya, Sankara Eye Foundation, Roots International Academy, Lakeside Treatment and Learning Center, Indo-American Cultural Center and Temple, Kalamazoo Juvenile Center, Washington Square Retirement Home, University of Rochester, and the Cleveland Thyagaraja Festival, the largest Indian music festival outside of India.
Rohan's multifaceted accomplishments as a performer, composer, educator, researcher, and entrepreneur earned him a one-on-one meeting and performance for the President of India, Dr. Abdul Kalam, at the presidential office and estate in New Delhi.
A native of Kalamazoo, Michigan, and based out of San Francisco, Rohan obtained bachelor's degrees in music and chemistry from Kalamazoo College as a Heyl Foundation Scholar, and Master's degrees in musicology and ethnomusicology from the Eastman School of Music at the University of Rochester. He earned a Ph.D. in musicology at Eastman as a Provost Fellow, where he founded and directed a popular Indian percussion ensemble and summer institutes.