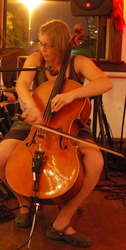 Meg Lauterbach
---
Meg Lauterbach, who received her Master of Music degree in Cello Performance from Roosevelt University and Bachelor of Arts degree from Kalamazoo College, is an active studio musician, and has worked with many bands and singer/songwriters to create original cello parts.
In addition, she maintains a rigorous schedule of classical chamber music and solo performances. She has been on the faculty at Hyde Park Suzuki Institute and Columbia College Chicago's Sherwood Community Music School for 10 years, training cellists and pianists of all ages and levels.
Orchestral performances have taken her around the globe–to Tomar, Portugal, to play Baroque cello at the Academia de Musica Antiga; to Osaka, Japan, where she was assistant principal cellist for the Ambassador Chamber Orchestra of Roosevelt University; to Courchevel, France, where she was assistant principal bass at the Conservatoire de Region.
Meg describes her music experience at Kalamazoo College:
Music was a huge part of my life at K. I played in the orchestra, sang in two different choirs, played in the bell choir, played bass in a Woody Guthrie-style folk band for a theatre production written by Ed Menta on the beginnings of organized labor in the U.S., rehearsed and performed with the Conservatory Orchestra during my study abroad in Clermont-Ferrand, performed three solo recitals (two on bass, one on cello), took private lessons in bass, cello, piano and voice, and played lots of chamber music with classmates and faculty.

Only now, over 10 years after graduation, do I realize how unusual, amazing and varied are the music opportunities at K. At the time I was a student at K, I didn't plan to become a professional musician–I just loved the music faculty and the wealth of ensembles and performance opportunities. Lo and behold, several years after graduation I realized it was silly to do anything BUT music for a living. And lo and behold, all of that music at K prepared me completely to enter graduate school in music.

Now I have a Master's degree in Cello Performance from Roosevelt University and I never hesitate to tell people that I did NOT go to a conservatory for undergrad, nor do I hold a Bachelor of Music degree. I love the fact that I took serious courses in many diverse disciplines; I love the fact that I didn't flinch when graduate music history professors asked for a 20-page paper–at K, I regularly had to write 30+ pages for a final paper!

Meg Lauterbach