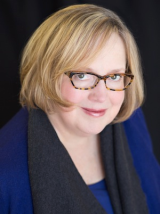 Lorraine Manz
---
Lorraine is Director of the Schoepfle Vocal Arts Center of the Oberlin College Conservatory. Prior to joining Oberlin in 1993, Lorraine taught at the University of California and at St. Olaf College.
She graduated from Kalamazoo College in 1975 and followed by graduating with a Master of Music degree from the University of Michigan in 1977. She also studies as a doctoral fellow at the University of Texas in Austin.
Lorraine followed the very normal K College plan and went from here to grad school at the U of M (where they immediately revised their opera schedule for the year to take advantage of her perfect match for the role of Carmen!)
Mezzo-soprano Lorraine Manz has been featured as soloist in the United States in orchestral, oratorio, recital, and chamber music settings. She has performed as soloist with the Cleveland Orchestra, the Aspen Music Festival Orchestra, Blossom Music Festival (Cleveland), New Hampshire Music Festival, Round Top Festival in Texas, Bach Festival Society, Shreveport Summer Music Festival, and the Jefferson Performing Arts Society (New Orleans) with conductors such as Leonard Slatkin, Robert Spano, Marin Alsop, Gareth Morrell, and Steven Smith. She received critical praise for her performances with Lyric Opera Cleveland in Little Women, for which composer Mark Adamo was stage director.
Manz has been heard on artist series in recital and contemporary chamber music ensembles, including performances at the Lincoln Center, Contemporary Directions of the Aspen Music Festival, Music Academy of the West, the Walker Arts Center (Minneapolis), and the New Music Festival (California). She has toured Japan, Hawaii, and the West Coast, performing a variety of chamber music works.