Upcoming Events
Academy Street Winds – "Arabian Nights"
Dr. Thomas G. Evans, Director
May 6th, 2022 – 8pm
Dalton Theatre, Light Fine Arts Building
Past Events
Academy Street Winds – "French Ties"
Dr. Thomas G. Evans, Director
February 18th, 2022 – 8pm
Dalton Theatre, Light Fine Arts Building
Offering a delightful program of music related to French culture, the Academy Street Winds presents a program playfully titled, "French Ties". In an inventively cohesive program, conductor Thomas G. Evans has mingled serious works such as "Farandole" from Bizet's L'Arlésienne Suite No. 2 and Debussy's "The Girl with the Flaxen Hair" with more light-hearted works such as "Un Petite Café a Paris" and selections from the musical Les Miserables.
To get you in the mood, there will be a 20-minute preshow with slides of France and café music. The concert is destined to be a memorable performance and one guaranteed to warm your heart on a winter's eve. Please join us Friday, February 18th. The concert is free and open to the public. (Donations gratefully accepted).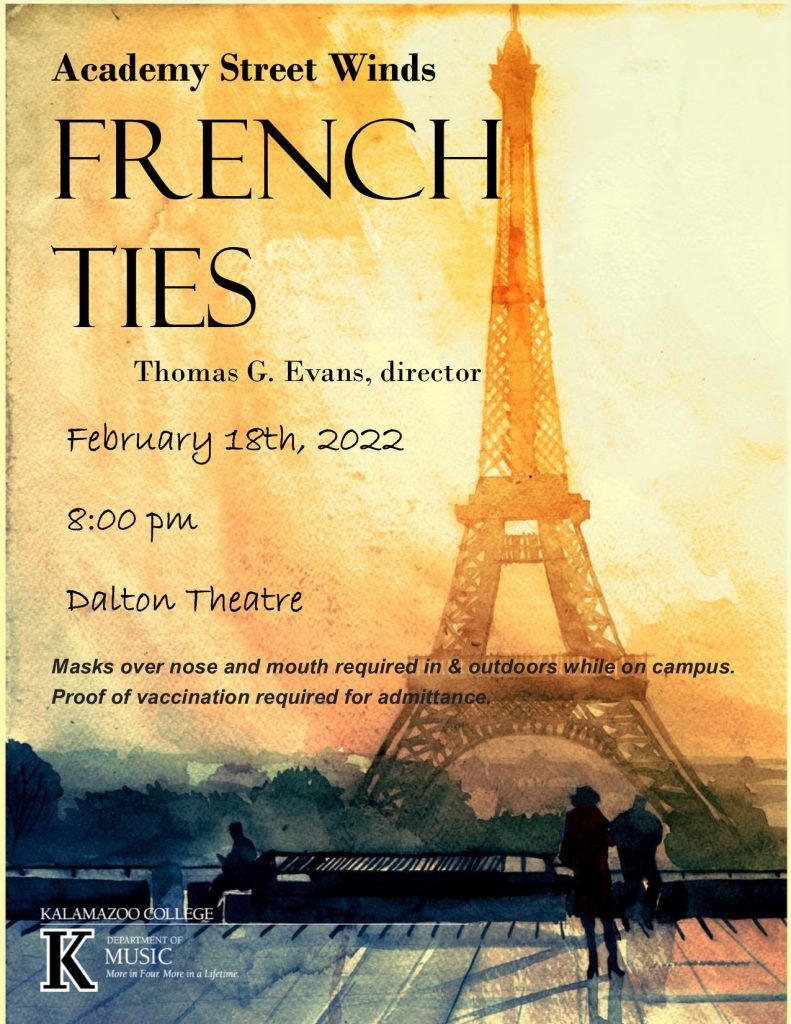 Academy Street Winds Concert – "Trick or Tweet"
Dr. Thomas G. Evans, Conductor
Friday, October 29th – 8pm
Dalton Theatre, Light Fine Arts Building
Halloween isn't just for candy anymore! Join us if you dare for a Howl-o-ween scare when the Academy Street Winds gives a fangtastic concert on Friday, October 29th @ 8pm in Dalton Theatre. Costumes are encouraged! You're guaranteed to have a gh'oul time. In fact you'll be so scared you'll boo in your pants! Bugs and Hisses to you!